Different Applications of Piping
Pipes come in many different types, shapes and sizes. They can be made out of metal, plastic, wood, ceramic, glass, concrete, and many other materials. They are used to transport water, gas, and sewage. Various sorts of plumbing pipes are utilised in construction projects for a variety of reasons, such as water supply and drainage, as well as waste removal. 
Agru Australia is a leading provider of industrial pipe systems and fittings, agru pipes, etc services in Australia. We provide top-notch products and services. Our team of experts provides advice and support to farmers and industrial owners across Australia about different piping systems and fittings that need to be implemented in business. Our product range includes pipe fittings, pipes, industrial piping systems, semi- finished products, concrete protection and liners. 
We have a large product range that is used for many industrial and commercial purposes including civil, agriculture, manufacturing, mining, chemical, and other sectors. Applications include cooling water pipes, pipeline construction in plants, process pressure lines for moving aggressive media through pipes, transporting contaminated wastewater via exhaust gas and exhaust airlines, as well as piping systems for construction of tanks etc.
Whether you're doing your own plumbing in your house or hiring a professional to do it for you, learning about pipes is essential. Understanding the different types of pipes, their uses will help you choose the right piping system and fittings for both commercial and domestic applications. We will examine the different types of pipes and their uses in this article.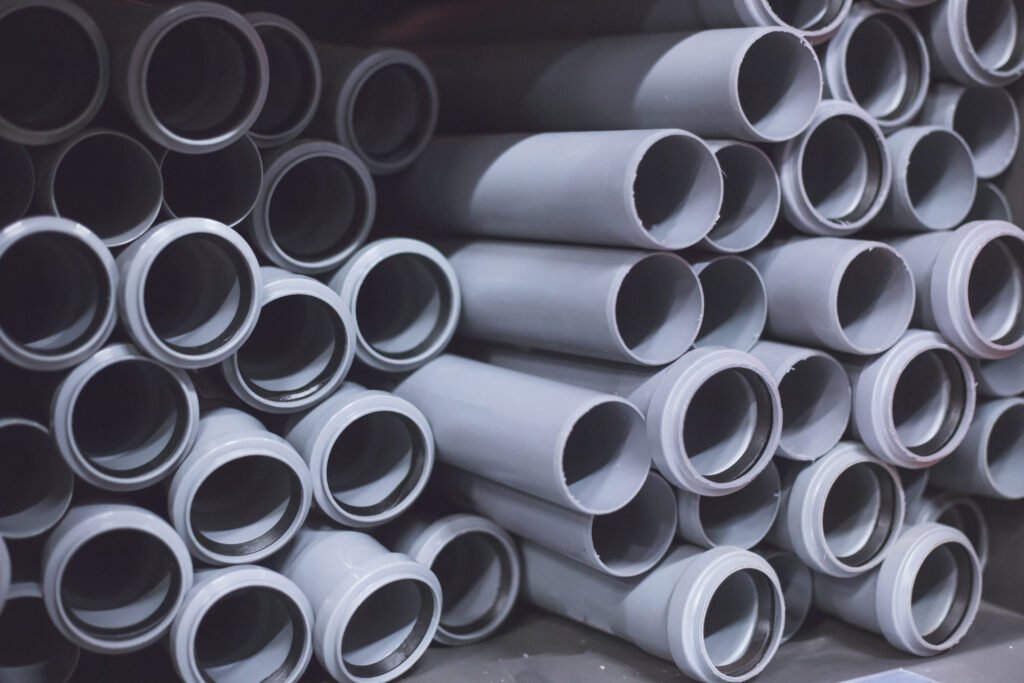 There are two main types of pipes: rigid and flexible. Rigid pipes are made out of metal like copper, steel, aluminium, etc, or concrete. They are usually thicker and heavier than flexible pipes. Flexible pipes are made out of rubber, PVC, or polyethylene. They are thinner and lighter than rigid pipes.
Here are some examples of each type of pipe:
Rigid Pipe Examples:
Water mains

Sewer lines

Gas lines
Flexible Pipe Examples:
Plastic piping

Rubber piping
Pipes are selected on the basis of their work and suitability, as well as their pricing. Pipes are classified into three kinds, depending on the type of industry.
Chemical and power piping systems.

Pipes for the plumbing industry.

Pipes for the Pipeline industry.
Chemical and Power Piping Systems
Pipes made of iron are used in high-temperature and high-pressure applications. Chemical, power, petrochemical, steel, oil, and gas businesses rely on ferrous pipes most often. They are frequently picked depending on their capacity to withstand pressure, temperature, corrosion resistance, and so on.
Pipes made from ferrous materials include,
Carbon steel pipes

Stainless steel pipes

Alloy steel pipes

DSS pipes

Cast Iron pipes

Ductile Iron pipes, etc
Plumbing pipes
Plumbing pipes are mostly used for water distribution. Today, there are many different types of plumbing pipes on the market, some dating back to ancient times and others constructed from modern materials. The five main plumbing pipes are,
PVC Pipes: PVC is best suited to vent and drain lines.

Copper Pipes:This is an excellent water supply system and is easy to install by both DIY homeowners and professional plumbers.

Galvanised Steel Pipes: They are ideal for attaching to existing galvanised steel pipes.

PEX Pipes: PEX plumbing pipes are flexible, colour-coded plastic piping that can be cut and connected with ease. They are one of the most popular plumbing pipe choices for houses and small businesses since they require little attention.

ABS Pipes: ABS pipes are mostly used for venting or as drainage pipes.
Pipes used by the pipeline industry
Pipe products used in pipeline operations are generally known as line pipes. The three types of pipes that are used in the Oil and Gas industry include seamless pipes, ERW pipes, and LSAW pipes.
Pipes are classified as follows, depending on the sort of fluid they carry,
Pipes that transport water.

Pipes transporting gaseous substances.

Pipes that carry different vapours of products.

Pipelines that transport crude or refined oil.

Steam pipes that transport steam.

Pipes that carry hydrogens.
Which Type Should You Use?
If you plan to install new plumbing fixtures, such as sinks, toilets, tubs, showers, etc., then you should use rigid pipes. This is because these fixtures require a larger diameter pipe. However, if you are installing a new toilet, sink, or shower, then you should use flexible pipes. Because these fixtures do not require a large diameter pipe. Instead, they require a smaller diameter pipe. So, if you are replacing a fixture, then you should use a flexible pipe. But, if you are adding a new fixture, then you should choose a rigid pipe.
Various types of plumbing pipes have different purposes. Agru Australia can help you with all of your plumbing needs, whether they are small or large. You may count on us to provide the highest standard of service when it comes to your water and sewer services. We offer a wide range of pipe systems and fittings for your plumbing needs.