Industrial Plastic Pipes from Agru
Agru specialises in offering high quality industrial plastic pipes and plastic tubing to our customers across Australia. We manufacture and supply a wide range of Plastic Pipes for a variety of applications. All our products are manufactured using superior quality raw materials and state of art technology. Our main objective is to provide cost effective solutions to customers. In order to achieve this, we continuously upgrade our facilities to ensure higher production capacity.
Why Choose Us,
High Quality Products

Strong & Durable Products

Long Term Performance

Competitive Pricing

High Economic Efficiency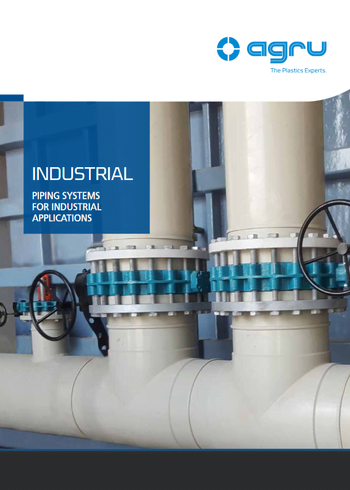 Different Types of Pipes Available at Agru
Our products include PE, PP, PVDF and ECTFE and many other types of plastic pipe. They are ideal for transporting aggressive and acidic media. 
PP-H/PP-R Industrial Piping Systems: PP-H and PP-R pipes and fittings have been widely used in all industries for decades. Their excellent temperature and corrosion resistance features make them ideal for long-term use. The pipe size for Agru PP-H is 20mm to 1400mm and for AGRU PP-R is 20mm to 800mm.
Electrically Conductive: HDPE-ESD-el / PPS / PPS-ESD-el: Electrically conductive piping is used in areas where there is a possibility of explosion. These pipes are chemically resistant and easy to process and install.
Fluoroplastic Systems: Thermoplastic homopolymer PVDF is resistant to most media, has outstanding mechanical strength, and can be found without additives or stabilisers. Argu PVDF pipe sizes range from 16mm to 400mm.
ECTFE is composed of ethylene and chlorotrifluoroethylene alternately, making it ideal for applications involving high temperatures and aggressive media. ECTFE pipe sizes range from 20mm to 200mm.
Double Containment Piping Systems: Poly-Flo double containment systems are made of PP or PE, which are extremely compact, lightweight, and easily installed and can be used for welding even in cramped spaces. Pipe dimensions are 50/32, 90/63, and 160/110.
Abrasion-resistant Systems: MINELINE piping systems are used to transport abrasive media, are durable, have very little thermal expansion, and are resistant to fast abrasion. Sizes range from 63 – 630mm to 710 – 1200mm.
Our plastic water pipe system is designed to withstand extreme conditions. Agru provides a range of piping components to meet high demands for pipeline construction in different industries. For more information about this product please call us on 1300 136 698, or email us at sales@agru.com.au